2 truckers killed on I-81 in West Virginia trying to help at crash scene | Winchester Star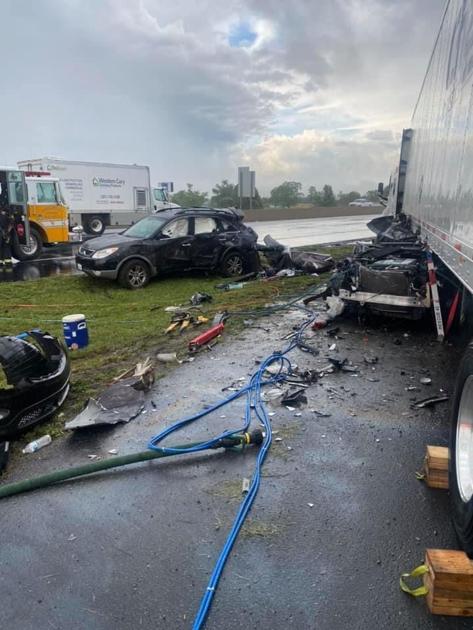 MARTINBURG, W.Va. – Two truck drivers trying to help at the scene of a traffic accident on Interstate 81 were killed when struck by another vehicle Thursday morning.
Adam T. Miller, 53, of Hagerstown, Md., And Ashis P. Patel, 46, of Ontario, Canada, were on foot when they were shot, police said.
The incident occurred at approximately 7:20 a.m. at kilometer 19.5 southbound.
"It's an unfortunate situation, one of the worst I've seen in my career," said Berkeley County Sheriff Nathan Harmon.
Miller and Patel were not involved in the initial crash. They were trying to rescue those who were.
When first responders arrived, they found four vehicles and two pedestrians at the I-81 entrance ramp from the southbound rest area.
The initial investigation determined that the incident was the result of two separate accidents. The first involved two passenger cars and a parked semi-trailer. Police said an Infiniti passenger car struck the parked semi-trailer and was subsequently struck by a Hyundai SUV, which trapped the Infiniti under the trailer, but no fatal injuries were reported.
Several motorists stopped to try to rescue, including Miller and Patel. It was then that a Nissan Pathfinder lost control and traveled the median, hitting the semi-trailer and Miller and Patel.
The driver of the Nissan sustained life-threatening injuries. Police identified him as Jason Hooper, 47, of Martinsburg. He was in critical condition Thursday, police said.
Weather conditions and speed were believed to have been factors in the incident, authorities said.
There was also a separate accident between two vehicles at the same location which did not result in any significant damage or injury.
The clean-up and subsequent investigation resulted in the closure of the rest area, as well as the closure of two lanes on I-81 southbound for approximately seven hours.
The incident is still under investigation.