Blountville Man Named Tennessee Trucking Association Driver of the Year | New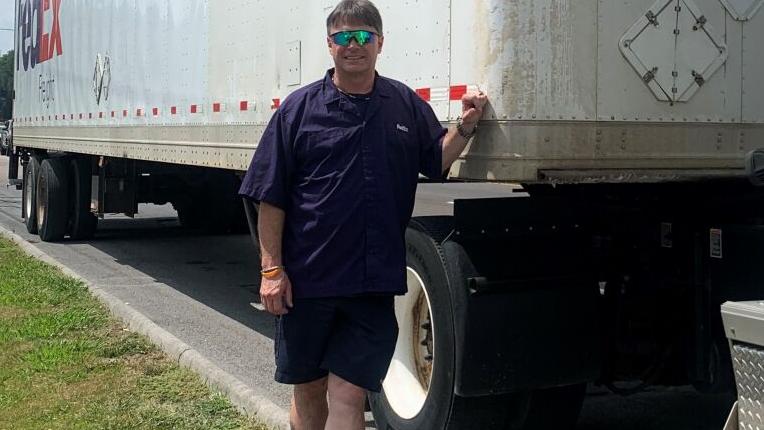 BLOUNTVILLE – Jeff Stinson has driven more than two million kilometers in his 34-year career as a professional truck driver. Now the Blountville native has been named the Tennessee Trucking Association's Driver of the Year.
The award is given to those with exemplary driving records who represent the best aspects of the driving profession, including safety, courtesy and heroism. Stinson was a city driver for FedEx Freight at the company's Kingsport service center for almost 30 years. The award recipient has not recorded any accidents on the two million kilometers traveled throughout his career.
"Jeff takes every opportunity to educate area students about safety and train young drivers in the trucking industry," said Ross Tester, director of Kingsport's Fedex Freight service center in a statement announcing the price. "He is a true leader among his peers and goes above and beyond to promote safety and be a role model for TTA. He fully deserves this award and I am proud of his accomplishments.
Since joining FedEx Freight, Stinson has won numerous honors and awards, including the FedEx Freight Bravo Zulu Award for Safety, the FedEx Freight Master President Safety Team Award, and the FedEx Freight President's Safety Team Award. He has also won numerous TTA Tennessee Truck Driving Championship awards over the years, including Grand Champion in 2017 and first place in the tanker class in 2016 and 2017. Stinson has also been a dedicated volunteer in the community, organizing events. events to collect and distribute supplies. for children in local primary schools.
His love for the career began at the age of 20 when he followed in his grandfather's footsteps, who was a longtime chauffeur for McKinney Bridge Company. According to the TTA website, Jeff's first job was to drive a hydraulic seed truck for Country Boy Seeding, a local company. He then switched to off-road driving for Carretta Trucking in Forest City, NC, and also pulled an oil tanker for Smith Oil before joining FedEx in 1992.
He has also visited schools as a Tennessee Road Team Captain to help educate children on safe driving practices and how to responsibly share the road with tractor-trailers, the Tennessee website says. the TTA. He has mentored other drivers and sits on the Driver Safety Review Committee, as a driver / trainer for new hires, and heads the FedEx Freight Safety Committee in Kingsport. In his spare time he enjoys drag racing, restoring old Mopars, traveling and spending time with his family.
Stinson was honored at the TTA's annual convention held in Destin, Fla., September 19-21, and will now compete with drivers from other states for the Driver of the Year award. from the American Trucking Associations.