Hiddenfjord CEO Atli Gregersen challenges industry to reduce CO2 impact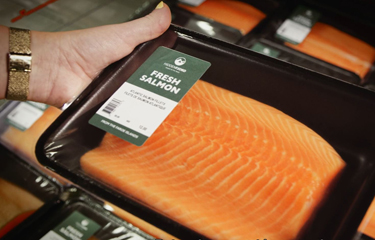 Hiddenfjord, a Faroe Islands-based salmon farming company in Gøta, celebrates the first anniversary of stopping its use of air freight to transport its fish, with a subsequent reduction in CO2 emissions of 94 percent.
Hiddenfjord CEO Atli Gregersen said he was inspired to act following a climate change talk by singer and Boomtown Rats political activist Bob Geldof at a conference in the Faroe Islands.
"Geldof said if you take action instead of just thinking about doing something, it will happen. You just need to make the decision, then the "if" becomes "what should I do now to achieve my goal," and suddenly you're thinking differently, "Gregersen told SeafoodSource.
The decision was one of the easiest in terms of environmental benefits, but one of the most difficult in terms of economy, Gregersen said.
"As a family business, we are able to think about what is important, rather than being driven by the need to satisfy investor balance sheets. We have long been driven by the desire to produce a truly sustainable product and had already started to reduce our carbon footprint by shipping salmon to Europe and Russia by sea. However, it seemed impossible to reach distant markets such as the United States and China without using air freight, "said Gregersen. "We were concerned that if we stopped transporting fresh fish to the Chinese and American markets, which are the most lucrative, it would lead to a short-term financial crisis for the company. However, we picked a date, October 10, 2020, and then figured out how to make it work. "
Another impetus for the Hiddenfjord movement was the publication of a report on greenhouse gas emissions from Norwegian seafood by the European research institute SINTEF. The report found that air freight emits around 50 times more CO2 than sea freight, and recommended finding alternative transport methods for all products that could be transported by sea instead of air. Gregersen challenged the rest of the salmon industry to follow suit, particularly in response to the October 14 release of the Climate Transparency Report – the G20's annual climate action review – which revealed that carbon emissions are on the rise again, after falling during global COVID-19 lockdowns. G20 countries account for 75 percent of global carbon emissions.
"We have determined that our salmon has a CO2 footprint of five kilograms per kilogram of finished product, when it's glazed, packaged and ready to leave the factory, but transporting it to the United States adds an additional seven kilograms of CO2 to it. 'footprint, while a flight to China adds about 15 kilograms more CO2 per kilogram of salmon, "said Gregersen. "It just wasn't acceptable to us, and we figured salmon is for swimming, not for flying."
Gregersen said his company's transport transition has been helped by the good reputation of its "Wild Raised" salmon, which is farmed in deep-sea pens in exposed and fast-moving areas of the Faroe Islands. But before moving entirely to ocean shipments, he said the company had gone to great lengths to perfect their quality control and processing techniques.
"We knew the quality of the salmon had to be perfect before it left the processing unit, so we started to rethink our harvesting, cleaning, cooling and packaging techniques to see how we could improve the quality. shelf life, "he said. noted. "The fish are now packaged on ice just three hours after a stress-free harvest, sealed in refrigerated containers in the factory and remain in an uninterrupted and regulated cold chain until they reach our customers in perfect condition. state in more than a dozen countries around the world. "
Despite preparations, Hiddenfjord's first attempt to transport its salmon by sea to the United States did not go as planned. The first container was shipped through a UK port that was not used to expedited refrigerated containers, and then the salmon arrived in New York City just as the pandemic struck and the city went into lockdown.
"We were still able to sell some of that cargo, and that gave us hope that we were on the right track," said Gregersen. "The answer was to move on to shipping out of Iceland and docking in Portland, [Maine], a nine day trip, and it works really well.
Gregersen said there were concerns that some fish will be more than two weeks old by the time they reach customers, but recent blind sampling of 100 U.S. consumers testing salmon shipped by air and sea found that both were rated equally favorable in terms of taste. , texture and aroma.
Sales in the United States are now increasing month-to-month and currently represent 40 percent of Hiddenfjord's volume, according to Gregersen.
Along with the development of the market for fresh salmon shipped by boat, the company has also tested shipments of frozen salmon to China, which are chilled close to the market and sold as a chilled product.
"Freezing and cooling technologies have developed tremendously over the past few years, and we believe this represents the future of selling high quality salmon fillets around the world, to compete with fresh salmon. Trials have gone well so far and this is a great product for sushi and sashimi, but there is still a long way to go to overcome consumer perceptions that chilled salmon is as good as it is fresh, in particular. especially in the Asian market, "said Gregersen. "Look at this space! "
Photo courtesy of Hiddenfjord