Holiday shipping times are coming, now is the time to prepare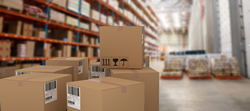 There is massive demand and very little supply. The supply chains are really broken and there's a lot of staff turnover right now. "
MIAMI (PRWEB)
20 October 2021
As the world enters the second holiday season since the start of the pandemic, the shipping industry has yet to recover from the effects of COVID-19. There is still a shortage of cargo space as flights have declined and shipping via ocean freight containers could take weeks to reach its destination. In the first six months of 2021, commercial flight traffic improved 11% from 2020 levels, but this figure was still down 33.8% from 2019. Total flight traffic improved slightly, with the total number of flights being tracked in the first half of the year. 2021 up 25.2% from 2020. (1) Although the number of flights is still declining, online shopping is more popular than ever. E-commerce retail sales continue to explode, with sales in 2020 reaching $ 4.28 trillion, and online retail revenues are expected to reach $ 5.4 trillion in 2022. (2) "There is massive demand and very little supply", explains AJ Hernandez, President and CEO of SkyPostal. "The supply chains are really broken and there's a lot of staff turnover right now. "
In the 19 months that have passed since the start of the pandemic, cargo space is still very limited. Even in the United States, the delivery infrastructure has been overwhelmed, from first to last mile of transport, due to the volume of business generated by unprecedented levels of online shopping. The levels of e-commerce growth observed from May 2019 to May 2020 would have taken four to six years if growth had continued at the same levels as in previous years. (3)
Transport by container ship is an option, but it comes with a much longer lead time. Maritime vessels originating in China have a 30-day navigation to the United States or Latin America. However, the holidays are the peak period for shipping and as this busy season approaches, communicating with customers will be critical to mitigate expectations regarding achievable lead times and increasing costs. It will be essential to plan ahead, in terms of adding resources to deal with increased volumes and delays. Finally, when it comes to last minute orders, customers should be warned that they are unlikely to receive them in time for the holidays. In anticipation of the continued increase in demand, some shippers have even had to set limits with some larger customers in terms of the volume they can accept from them each month.
Senders can be better prepared by following these suggestions:

Have a clear knowledge of the volume that will need to be shipped
Manage customer expectations
Plan to ship early
Be transparent about deadlines with last minute orders
Expect an increase in shipping costs
Allow extra time, if possible.
These suggestions are particularly important for those shipping to Latin America, where complexity is always a part of business thanks to entry codes, tax / tariff codes (such as the Harmonized System of the World Customs Organization, or HS) and the need to translate manifests into Spanish and Portuguese . Companies that ship to Latin America have to take care of this information, and most American companies do not have this capability. Essentially, the shipper serves not only as a delivery service, but also as an international intermediary.
"Delays are something everyone has to deal with in our business and with increased volumes the delays are even more numerous. Customers expect more and more over time, "says Hernandez. "I think these new volumes are here to stay as we have created a whole new group of people who are now comfortable shopping online."
About SkyPostal:

SkyPostal was established in 2001 to meet the need for an improved and efficient cross-border courier and parcel service from the United States and Europe to all countries in Latin America, the Caribbean and Mexico. It is now the largest private mail and delivery network in Latin America, serving European postal administrations, major publishers, the world's largest e-commerce retailers, international mailers and financial institutions that have need reliable and secure delivery of their mail and packages. For more information, please see http://www.skypostal.com.
1 Petchenik, Ian; "Global air traffic in the first 6 months of 2021"; FlightTrader24; July 2, 2021; flightradar24.com/blog/global-air-traffic-during-the-first-6-months-of-2021/

2 Chevalier, Stéphanie; "Global online retail sales from 2014 to 2024"; Statistics; July 7, 2021; statista.com/statistics/379046/worldwide-retail-e-commerce-sales/

3 Koetsier, Jean; "Accelerated growth of COVID-19 e-commerce over 4 to 6 years"; Forbes; June 12, 2020; forbes.com/sites/johnkoetsier/2020/06/12/covid-19-accelerated-e-commerce-growth-4-to-6-years/?sh=3e21c045600f
Share the article on social media or by email: