New air freight hub in Oklahoma to reduce time to market and reduce congestion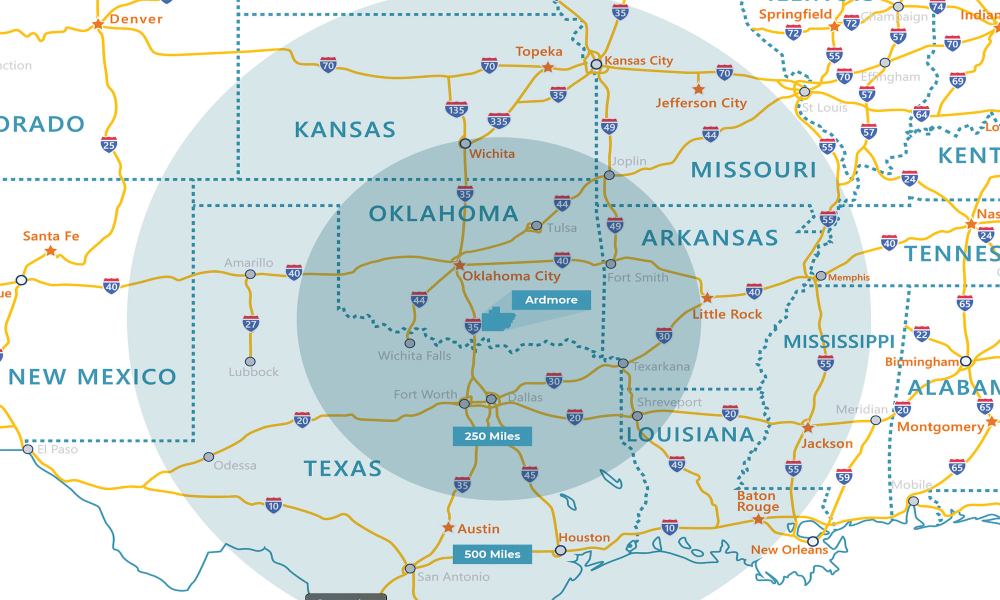 Global Transportation and Industrial Park of Oklahoma (GTIP) is being created on more than 200 acres of land ready to be shoveled and custom built at the former US Army Air Force base in Ardmore, Oklahoma. Representatives of GTIP have entered into discussions with airlines, freight forwarders, integrators and effective cargo owners on the development of air cargo solutions in the multimodal fleet.
GTIP will become a state-of-the-art global freight hub. It includes an already fully functional airport with 9,002-foot and 5,404-foot runways, 24/7 airspace access and 1.2 million square feet of aircraft parking space. The existing infrastructure can handle the vast majority of cargo and cargo planes, up to the B777-200, and future plans will increase capacity to include the B-747 family of cargo ships.
"The GTIP represents a tremendous opportunity for the air cargo community to build capacity using an existing airport that can accept air cargo today," said Michelle Bowling, Senior Director of Sales, Development Partner Watco. and operation of the GTIP. "E-commerce freight has driven significant growth in the air cargo industry during the pandemic, and we expect this growth to continue steadily. To meet growing demand, freight deserves dedicated and specialized cargo airports, but too few are available. GTIP helps meet this need, providing both existing infrastructure and space to build custom warehousing, manufacturing and distribution centers to meet a need for a fully integrated supply chain.
With air, rail and five major highways access, the availability and adaptability of the site will improve the time to market for goods. There is no limitation on the cargo that can be safely and expertly handled at GTIP, including perishables and agricultural products.
"The air cargo industry is facing a combination of change and growth at an unprecedented level," said Steven Verhasselt, a 20-year air cargo veteran, vice president of business at the airport. Liège and director of FB Cargo strategy. "GTIP represents a quick and smart solution to the lack of capacity in the US air cargo supply chain. Developing a multimodal greenfield logistics platform adapted to the new requirements on a fully functional aerodrome is a perfect answer because it can grow quickly and still be adaptable to current and future needs. As a dedicated freight platform, it will focus on quality service and ensure a reliable and flexible minimum time to market. "
"I fully agree with the above statement," said Youri Busaan, Managing Director of AnTho Consulting BV with over 25 years of experience in airport management and the air cargo industry. "With its central location and focus on freighters, GTIP will become from the start of operations a preferred destination for the air freight charter market and scheduled services will follow as soon as possible. "
WP Global Holdings, LLC, a partnership between Watco, Knightsbridge Partners and Chickasaw Nation, will develop the park under a public-private lease agreement with owner Ardmore Development Authority. WP Global Holdings created a master plan for GTIP, which included approximately $ 99 million for infrastructure improvements and $ 26 million for additional warehouses, manufacturing and distribution facilities. The plan maintains flexibility to meet current needs and the long-term plans of potential customers. Located in the heart of the Chickasaw Reserve, GTIP is eligible for Native American Accelerated Depreciation.
"We welcome discussions with supply chain stakeholders on what they want to develop," Bowling said. "The GTIP enables them to adapt to demand and is a rare opportunity to influence the master plan according to their own needs.