Pittsfield football continues to roll with victory declaration at South Hadley | Soccer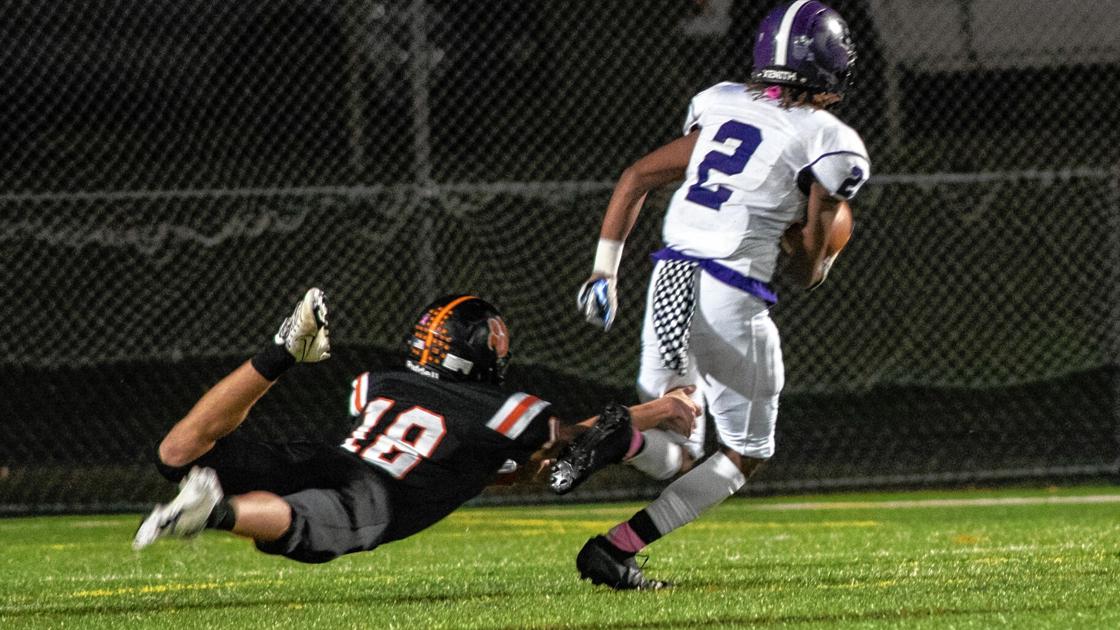 SOUTH HADLEY – South Hadley didn't appear to find an answer for Pittsfield quarterback Patrick Rindfuss on Friday.
The Generals sent their big signal early and often with great success and capitalized once the Tigers were forced to defend the run with deep passes.
Rindfuss finished with 25 carries for 193 yards and three touchdowns, while going 7-for-11 for 139 yards and a pair of touchdowns in the air to take Pittsfield to a 44-20 victory.
South Hadley (2-4) suffered several injuries in the game, leaving him shorthanded in the second half.
"We were a shell of ourselves," Tigers coach Scott Taylor said. "It's a great team, but so are we. We have too many injuries. It is essential. It's frustrating because we didn't have all of our guys. I would love to play them with all of our guys and see what happens.
The victory marked the first time Generals coach Brian Jezewski has beaten South Hadley during his long tenure with the team.
"I'm really proud of our guys," Jezewski said. "It's a complete team effort. South Hadley is no joke. They are well coached, a physical team and our guys have stepped up. I thought we were physically dominant in the second half. Our offensive and defensive line have come together. It's good for our guys. I think that solidifies us as a team we face in the Division IV playoffs. "
Several big points from Rindfuss brought Pittsfield (4-1) into the red zone in the game's first practice, culminating with Rindfuss finding Brayden Bunnell for a 9-yard touchdown on a fourth and four. Rindfuss ran in the 2-point try to make it 8-0 for the Generals with 6 minutes and 47 seconds left in the first quarter.
South Hadley responded with his own touchdown, Owen Dawson interrupting a 29-yard touchdown run with 3:38 left in the first quarter. Evan Piquette converted the two-run attempt to tie the score, 8-8.
Rindfuss made his only mistake of the game in the first play of possession that followed, picking up a bad snap and trying to throw the ball, but Brady Currier was there on the sidelines to make the interception for the Tigers.
Installed at Generals 25, Piquette was stopped on a fourth and three to give the ball back to Pittsfield.
The explosive play for the Generals started in the second quarter. Rindfuss found Davon Solomon for a 50-yard touchdown to give Pittsfield the lead, 14-8. Once again, South Hadley responded, with Piquette running down the middle for a 17-yard touchdown to tie the game at 14 with 4:28 left in the first half.
Rindfuss opened the ensuing practice with a 39-yard strike at Solomon to put Pittsfield at Tiger 11, where Rindfuss executed it in himself and found Louis Rhodes for the two-point try to give the advantage to the generals, 22-14, less than a minute later.
The lights went out on South Hadley's final half-time practice, causing a delay. When the teams came out of the locker room, the Tigers had a chance to score before half-time, but Noah Marion's pass was caught by Tobias Gaulden-Wheeler to preserve the overall lead at the break.
Rindfuss knocked down Pittsfield in the third quarter and hit a one-yard touchdown to extend the lead to 30-14 with 4:02 left in the third quarter. Rhodes ran for 58 rushing yards to make it 36-14 with 7:47 left in the game.
The Tigers made it a two-point game with 5:36 left on a 14-yard touchdown from Piquette, but Rindfuss ran a 39-yard touchdown on the next possession to prevent any sort of South Hadley comeback.
"Patrick had an amazing game," Jezewski said. "That's what good players do. They play well in big games and he's an incredible player. He's a big, strong kid and the hardest worker out there.
With all the injuries, the Tigers will be looking to regain their health and rebound next Friday against Putnam.
"We had kids playing who had nothing to do on college ground, but they gave it their all," Taylor said. "This is the first time Pittsfield has beaten us, so hats off to them."