Samoa's largest all-local fishing company strives to restore exports post-COVID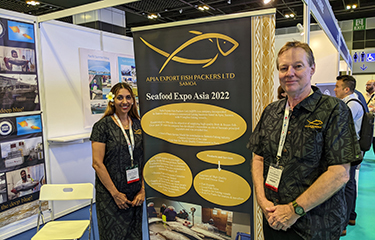 Apia Export Fish Packers, a Samoa-based tuna fishing company that employs only local residents, is struggling to get back into the export game post-COVID.
Apia Export Fish Packers co-owner Steve Cleverly told SeafoodSource that part of that effort was rooted in attending Seafood Expo Asia – which took place September 14-16 at the Suntec Singapore Convention and Exhibition Centre. – for the first time. The relatively small company, established 26 years ago, was able to attend the show thanks to the efforts of the Pacific Islands Forum Fisheries Agency (FFA), a non-profit organization that helps seafood companies sea ​​of ​​the South Pacific countries.
"It's been a whole strategy by the FFA to have us at this show, to allow us to come here, because we would never have the means to do it otherwise," Cleverly said.
Apia Export Fish Packers catches tuna in the Samoa Exclusive Economic Zone and in a typical year the company produces between 500 and 800 tonnes of frozen tuna and 300 and 400 tonnes of fresh tuna.
The company has previously sent tuna overseas via export to markets like the United States, but COVID has put a stop to some of its ambitions, especially when it comes to fresh exports, Cleverly said. But with the cessation of its exports, Apia Export turned to supplying the local market in Samoa.
"COVID has impacted us. The cost of freight, freight logistics, the air freight market has completely stopped," Cleverly said.
Air cargo in Samoa is highly dependent on whether or not there are scheduled passenger flights in the region, and COVID-19 related restrictions have meant that tourism – one of Samoa's main sources of income and the main driver of passenger flights – dried up overnight.
"Samoa is relatively isolated compared to Fiji or Papua New Guinea, our services have been severely stunted," Cleverly said. "They always had a lot of planes, so we suffered for sure."
Regular container freight shipments have also been reduced, with struggling shipping companies focusing on their most lucrative routes. This has overlooked the needs of Samoan industries, Cleverly said.
"They have hundreds of these containers around the plaza, but no one is picking them up," Cleverly said.
Things are starting to come back, he said, but now labor shortages in New Zealand and Australia are causing workers in Samoa to leave Apia Export Fish Packers to pursue opportunities overseas.
"It's a very small labor market. It's a complicated structure in Samoa," Cleverly said.
Despite the hurdles his business faces, Cleverly said participating in SEA has helped the company meet potential customers and get a feel for what's going on.
"You're so entrenched in running the business that when you come to a place like this, we see another world," Cleverly said.
Now the company is considering whether or not to pursue Marine Stewardship Council certification and other certification programs.
"We need to look at what we need to do, and how we need to do it, and if we're going to go down that road," Cleverly said.
The end goal is to elevate Samoa's position in the global seafood industry, according to Cleverly.
"It's to put Samoa on the map, to put our country on the map," Cleverly said.
Photo by Chris Chase/SeafoodSource