Seaspan freight ferry strike averted after deal reached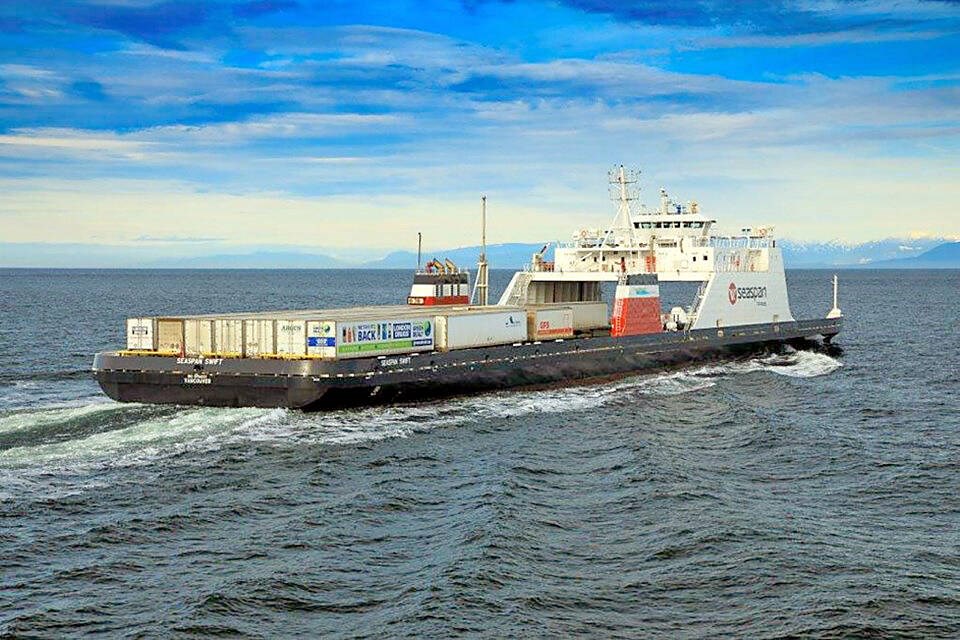 Seaspan's cargo ferries move about 50% of cargo to Vancouver Island, carrying everything from groceries to building materials.
A short-lived strike that threatened to disrupt the delivery of Seaspan Ferries supplies to Vancouver Island has been called off after the company and unionized workers reached a tentative agreement for a new contract.
The labor disruption lasted only a few minutes on Friday afternoon, a Seaspan official said.
The agreement avoids interruptions in supplies arriving on the island. Approximately 50% of consumer goods arriving on the island are delivered by Seaspan via Duke Point in Nanaimo and Swartz Bay on the Saanich Peninsula.
The navigations were interrupted at the end of the morning on Friday and the truckers turned around. With a provisional agreement reached, freight ferries were due to resume on Friday evening and continue to operate through the weekend, Seaspan said in a statement.
Seaspan expects to be fully operational and resume its full sailing schedule on Monday.
Details of the agreement were not disclosed. The proposal goes to union members for a vote, Seaspan said.
A spokesperson for the Merchant Navy Guild of Canada, representing Seaspan workers, could not be reached.
Talks began in January 2021 and had involved provincial mediators.
The union was in a legal position to strike at 3 p.m. Friday. It announced on its website shortly before that date that it was on strike, leading Seaspan to cancel the service.
The collective agreement between the Guild and Seaspan filed with the British Columbia Labor Relations Board shows that the most recent agreement lasted seven years, from October 1, 2013 to September 30, 2020. The 39-page agreement provided for two percent annual salary increases.
If the strike had taken place, Seaspan would have been limited to 30% of its carrying capacity, the company told customers on Thursday. This level of service was established under an Essential Services Order issued by the British Columbia Labor Relations Board.
This would mean North Vancouver-based Seaspan would be allowed to operate a daily round trip, sailing from Tilbury in the Delta to Swartz Bay, and a daily round trip, from Tilbury to Duke Point, seven days a week. He could also fly from Surrey to Duke Point and back six days a week.
Brandon Peters, of Ray Peters Trucking in Chemainus, said Thursday that a strike "would affect all of us, for sure. Even though we are all competitors with each other. It's going to be huge for all of us. So, yeah, we're freaking out and hoping this gets resolved immediately.
The family business ships around 40 trailers a day on Seaspan, which accounts for around 90% of the company's work, he said.
Ray Peters Trucking ships a lot of building materials such as steel, lumber and cement.
In the event of a strike, Peters expects that BC Ferries will not be able to handle the volume of traffic requiring its services. BC Ferries recently canceled some crossings due to staff shortages.
It's unclear how BC Ferries would react to a strike at Seaspan. The company did not respond with comment Thursday.
At Penta Transport Ltd. of Nanaimo, Kendra Slawson, logistics coordinator, was frustrated that Seaspan hadn't notified customers earlier than Thursday morning that there might be service cuts. She said she was "a bit in panic mode".
Slawson predicts that Seaspan ferries would carry groceries and fuel rather than other materials during a strike.
Penta spends just under $2 million with Seaspan each year, shipping at least 20 round-trip loads a day, she said.
"It's an integral part of our business."
The trailers, mostly carrying construction materials and other items such as swimming pools and hot tubs, are heading to job sites where crews are waiting for them, Slawson said. The company also delivers the Trans Mountain pipeline project to Burnaby and SkyTrain.
Slawson said she tried to speak to someone at Seaspan on Thursday, but was unsuccessful.