TCI will focus on 15% revenue and 20% profit in FY22: Vineet Agarwal, MD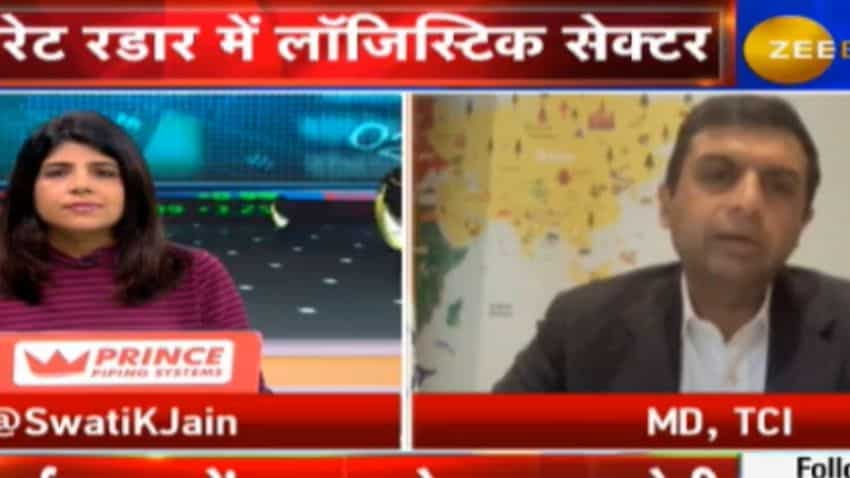 Vineet Agarwal, Managing Director, Transport Corporation of India (TCI), talks about demand trends, semiconductor chip shortage issues and its impact on his business, freight business, preservation strategy margins, warehousing capacity and expansion plans, shipping lane business, national logistics policy and inorganic growth opportunities among others, in a frank conversation with Swati Khandelwal, Zee Business. Edited excerpts:
See Zee Business Live TV Streaming below:
Q: What kinds of demand trends are visible in the industry? What are your prospects as manufacturing activity has picked up a lot and what is the impact for you? Is there a supply chain issue or is it acceptable enough to handle it at this point?
A: Due to the first and second wave of the pandemic, there have been many disruptions in the supply chain around the world as well as in our country. The supply chain was almost broken in some places. But over the last six months, we've seen that the growth that's coming into the market is pretty good and that growth is driven by pent-up demand. There were some constraints on the supply side and now there are constraints on the demand side. So this suggests that there is a lot of growth in the logistics sector as it is directly related to GDP. At the same time, we see that there are many sectors in this area that are experiencing seasonal growth. During the pandemic there has been very good growth in agriculture due to which there has been very good growth in sales of tractors, fertilizers and seeds among others. Now, as the festival season approaches, we see that the inventory of a lot of things is increasing due to which the movement of transportation and logistics has increased a lot, such as textile industry, automotive industry and some segments. construction. Because before festival goers can bring new furniture into their homes, not many people will paint their homes and have things fixed. Due to these factors, there is a lot of movement in these sectors across India. You would have seen that there is a lot of momentum in the metals sectors and this is naturally because the government spending is quite significant in the infrastructure thanks to which steel, cement, aluminum and many products. similar have gained momentum.
Q: Several automakers have cut production due to a shortage of semiconductor chips. Will this have an impact on your business in the short term?
A: This will not have much impact on our activity because our market share in automotive logistics is less than 10%, therefore, it will not have a major impact. But as you said, it has a huge impact in many industries, especially in four wheeler companies. Sales of two-wheelers did not increase much. Since last month we have seen a slight upturn in commercial vehicle sales, this is seasonal but we also know that there has been no capacity increase in the commercial vehicle segment over the last one to one. and a – half a year, so, I don't think that impact of a semiconductor shortage is here for long, I hope auto sales – in the next two or three months – will will improve and return to their normal trend.
Q: Your freight business is still doing well. Do you expect this momentum to continue or do you anticipate challenges and issues that may arise?
A: No, not really because this freight company is our oldest and most stable company and our reputation and brand knowledge is quite high in the segment. Customers love us because we are quite transparent and our services are present all over India, both FTL (Full Truck Load) and LTL (less than truckload). So this is quite advantageous and due to the national presence we can serve all types of clients well. It is therefore a very good company and it will continue on its growth path.
Q: Raw material prices have gone up and rising rental costs are putting pressure on margins as well. Do you have plans for the price increase and what is your strategy to preserve your margins in the future?
A: Certain fuel indexation clauses are incorporated into most contracts in our freight business, for example, if fuel cumulatively increases by 5%, our rates also increase. So it doesn't have a direct impact on us, but there is a lag impact where we don't get it instantly in which companies back then say they are taking this increase first. So overall it won't have a major negative impact on us as it is mostly passed on to customers.
Q: What is the current warehouse capacity and what are the expansion plans here? How is the shipping industry doing as global shipping and container prices rise? What impact can this have soon and what are the prospects for this part of the company?
A: The warehousing business is very attractive and we have approximately 12 million square feet of warehouse space that we manage nationally. It is among the largest and to a large extent we operate warehouses for e-commerce companies, consumer durables companies, consumer goods companies and automotive companies nationwide. We also manage a few cold chain warehouses nationwide. Regarding maritime activities, we have six vessels, mainly in cabotage. The international freight rates and container shortage don't impact us much because we are in the domestic market but it has a huge impact on the export market as these rates have increased three to four times in many sectors. Containers are not available for international shipping. But since we are in domestic shipping and our ships mainly move around the Indian coast, it will not affect them. We want to buy new ships but it is not available because the prices of the ships have increased a lot.
Q: The government pays special attention to the logistics space and a national logistics policy is being created. Are you looking forward to inorganic growth opportunities and what are your aspirations in terms of where do you want to reach and what are the preparations for the same?
A: The national logistics policy will focus more on the multi-model and on how the process needs to be improved and standardization. We focus heavily on multi-model and as a company we are already present in maritime transport as well as we have a joint venture with CONCOR for rail transport. So, we are in the rail, the road as well as the sea and this multi-model will help us. As for inorganic growth, it's related to it and if we have an opportunity, we will look at it, but we have a strong focus on multi-model. Second, in terms of growth prospects, we will generally focus on 10-15% revenue this year and our forecast for net income is around 20%. This is a bit conservative as it will be based on how the market will be whether the third wave is coming or not.