Tire giant Michelin develops inflatable sail system for maritime transport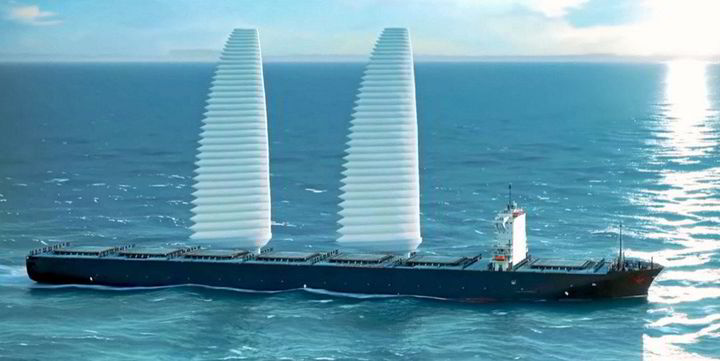 The French tire manufacturer Michelin aims to install inflatable sail systems on ships to reduce emissions.
The group's research and development branch unveiled its Wing Sail Mobility (Wisamo) project, developed with two Swiss inventors.
The inflatable sail is used in tandem with a telescopic mast to harness wind power.
This can increase energy efficiency by up to 20%, the company said.
The retractable mast avoids deck height and port issues, Michelin said.
This makes it suitable for all sea routes, the French company added.
Test phase next year
Michelin sees its systems as a cheaper way to decarbonize while ship designers and fuel producers work on zero emission shipping.
The sails will be mounted on a merchant ship for a test phase in 2022. It is hoped that production will follow afterwards.
This is not the first time that Michelin has bet on wind power.
In February, the multinational pledged to ship some of the tires it manufactures in Nova Scotia, Canada, across the Atlantic to France on a cargo ship propelled primarily by sail.
The agreement has been made with the French start-up Neoline.
"This initiative and this new partnership promote innovation in the field of carbon-free transport," said Pierre-Martin Huet, Michelin's supply chain director, in a statement at the time.
Boxes to move
Michelin has committed to moving around 100 containers per year from Halifax to the port of Saint-Nazaire in Brittany from 2023.
Neoline was founded in 2015 and is already supported by chargers Renault and Beneteau.
The ships will operate at 11 knots with 4,200 square meters of sail area.