Tyler ISD Creates Incentives and Advertising Campaign to Fill Vacant Bus Driver Positions | New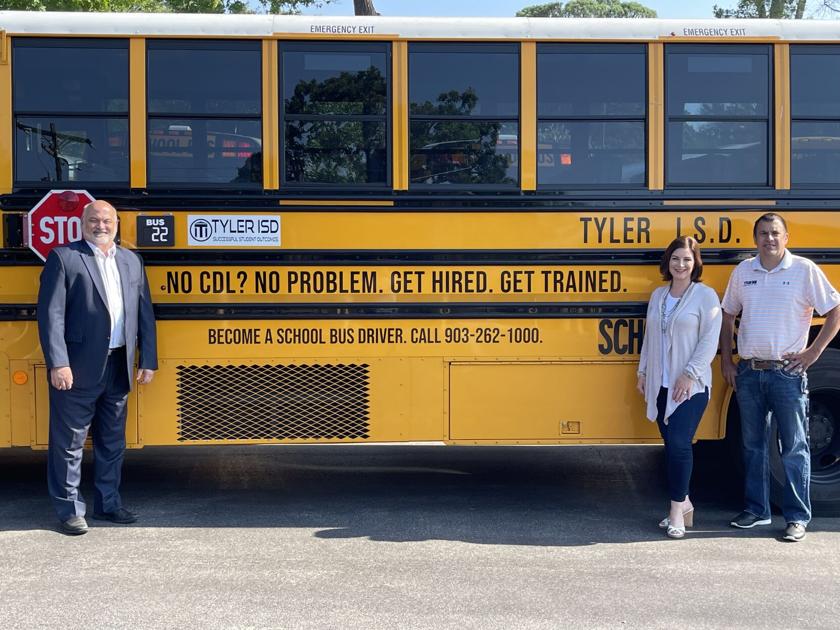 Faced with a shortage of bus drivers, as in most schools across the country, Tyler ISD is working to promote employment opportunities and recruit people to fill a large number of vacancies.
John Bagert, director of transportation for Tyler ISD, said Thursday that a shortage of school bus drivers was not new to the school district. Bagert said that this year there are more than two dozen driver positions and more than 20 instructor positions.
"This is my 12th year in this role and I have never had a full roster of drivers," he said. "This is the largest number of vacant driver positions. "
He noted that one of the difficulties in recruiting potential drivers is the number of jobs available at other schools, stores and restaurants.
Bagert said the district has taken steps to ease people's minds about driving a bus, such as providing any training needed for a commercial driver's license or a Class B driver's license.
He added that no experience is necessary for driver jobs.
"We are hungry. We are looking for people who are ready to work and who don't even need to have the experience," Bagert said. "If they are willing and come with the right attitude and love the kids and care about the safety of children, we will teach them everything they need to know to get their commercial driver's license. "
The Tyler ISD board of directors also voted on June 10 to approve a wage of $ 18 an hour for bus drivers, which goes into effect on July 1. Current drivers also receive a pay rise.
"We pay a good salary, we have competitive benefits and on top of that we have a lot of free time," Bagert said. "You can work as much and as little as you want. We guarantee four hours a day, but we have drivers who work eight to 12 hours a day.
Bagert said six trainee bus drivers are expected to obtain their commercial driver's licenses in the coming weeks.
In addition to the required driver training, applicants also take 20 hours of student management training to "learn how to encourage students to behave in an acceptable manner," Bagert said.
Bagert said the driver's typical shifts are from 5:30 a.m. to around 8:30 a.m. or 9 a.m. and then the driver has some free time until the next trip of around 2:30 p.m. to 5:30 p.m.
The school district has launched a campaign using catchy phrases on buses to encourage people to apply for driver positions. The first set of buses with the recruitment phrases will hit the streets soon.
Sentences include: "What can yellow do for you?" "; "Premier Shipment on Tyler's Most Valuable Cargo, Children"; and "We want you to drive for Tyler's kids."
Tyler ISD, Executive Director of Communications Jennifer Hines, said she hopes the campaign can raise awareness of the need for bus drivers.
"I hope people will see this and smile and maybe even laugh a little bit because this is based on other popular campaigns. We hope this is something that catches someone's attention and that 'he will say something to a friend, "Hines said." We hope to have him on 100 of our buses that will travel, not only during the summer but during the school year and even out of town on different trips . "
Bagert said several drivers feared contracting COVID-19, and some are returning after seeing Tyler ISD's COVID-19 response and learning people are catching the virus from other places, not from the bus or the school district.
Typically, Tyler ISD school buses carry just under 5,000 children a normal day out of a student population of 18,000, Bagert said.
"School bus transportation, as reported nationally, is the safest period of transportation," he said, adding that drivers are often the first and last contact for students at Tyler ISD. "We need to have the right attitude with the kids because we set the tone for almost a third of the students in the morning and end the tone when they get off the bus and get ready for the next day."
Hines said students get to know their bus driver over time.
"It's really an ongoing relationship throughout the school year," she said. "Their role goes far beyond just driving a bus. They connect with these children.
The Tyler ISD transport team has nearly 100 routes during the school year and 30 routes in the summer. In addition to taking children to school, the buses take students to competitions, field trips, games and other events year-round, Bagert said.
Tyler ISD bus drivers travel 1.5 million miles a year and about 6,000 miles each day, Bagert said.
"We do a lot, but we do it safely and maintain that we are the safest transportation option available to students," he said.
Those interested in applying can visit careers.tylerisd.org and scroll down to view information about school bus drivers. They must then click on the "Apply Now" option to start the application.